Welcome to Yummie Creations!
It's all about good food!
Check Out Yummie's Seasonal Favorites
(scroll to second page of the dinner menu)
Frequently Asked Questions - Goodies and More!
Yummie in the NEWS! The State Newspaper - What's Good Here?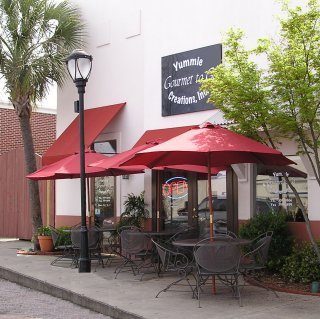 Located in the Shoppes of Flight Deck between
Martini Bar & Tokyo Grill in downtown Lexington, Yummie's is a special place to meet friends for
lunch and an easy way to put a gourmet meal on your
family's dinner table. Chef Alicia Yarbrough's menu selections are sure to delight any palate.
Open for Take Out or Al Fresco Lunch on the Patio
& Take Out Dinner Monday - Friday.
Yummie Creations article in Lexington Life Magazine


THANK YOU LEXINGTON FOR A WONDERFUL 18 YEARS!!!
Yummie Creations, Inc.
109 Old Chapin Road #L
Lexington, South Carolina 29072
Telephone: (803)359-4866
Fax: (803) 359-4899